Hornsby West Side Planning Proposal
Plans are currently under way to rejuvenate Hornsby's west side, returning it to its place as the "heart of Hornsby".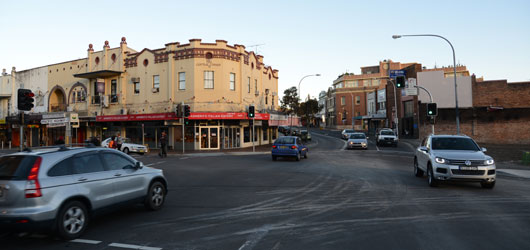 Renew Rethink Revitalise
This brochure briefly outlines the main aims of revitalising the West Side of Hornsby. Download Hornsby West Side - Renew Rethink Revitalise - 3.8MB
New planning controls
In December 2014 Hornsby Shire Council approved amendments to the Hornsby Local Environmental Plan (HLEP) that are designed to increase residential and employment opportunities while preserving the heritage character of the area. The most significant change is that development of buildings between 8 and 25 storeys is now permitted in the precinct.
Other elements of the new plan include:
A pedestrian plaza and park connecting the existing War Memorial Park to Station Street and the station;
A new four-way intersection at High Street and the Pacific Highway;
The closure of Station Street at the Pacific Highway to improve pedestrian access to Hornsby Station;
New street tree planting and spaces for outdoor dining, along with a potential market space;
New building controls to encourage residential development above shops and offices;
Retention and preservation of the heritage character of the precinct.
Significant consultation was carried out in the lead-up to the amendments, resulting in a number of extra changes. These include:
Sustainability requirements such as car share schemes, green walls and roofs and thermal efficiency;
A requirement for a wind effects report for buildings over 13 storeys in height;
Provisions addressing State Environmental Planning Policy 65 Design Quality of Residential Flat Buildings;
An increase in the podium height for the Odeon Cinema from two storeys to three storeys.
Click here to view the Hornsby Town Centre chapter of the Hornsby Development Control Plan (HDCP). There are additional controls, such as car parking, contained within the general chapter of the HDCP
You might also like to see the Draft Structure Plan (PDF 3.8mb) and the Report on Submissions
What happens next?
The new planning controls are in place. Now it's over to the property owners within the precinct to decide whether they want to redevelop their land in accordance with the new vision. A Development Application will need to be submitted by the owner for each development so Council can receive feedback from the public and assess the plans.
Local comments
Matt DeLuca, Station Street Bistro
"I worked in the area about five years ago and only recently came back. There is a big difference in the businesses around here since then. This area has been lost because most of the development has been on the other side. It can be really nice over here, anything to build it up would be good."
Stuart Jones, Brewhaha Café
"Better late than never. I think this area is very run down. The West Side needs to be more pedestrian friendly."
Jay Ahn , Oki Oki Japanese Restaurant
"Development is a good idea, we need trees and more rest areas, something more like Westfield's area with the fountain. There should also be more lighting for late night trading and we need to give people more information so they visit this area."
Matt Effenberg, Laing & Simmons
"At the moment Hornsby's West Side is restricted for business, it's really not a town centre that allows for business use. If we make it a place where people want to do business it will attract customers and also bring jobs for young people beyond simply working in retail. I think with the plans that are in place, along with the Hornsby Aquatic and Leisure Centre, Mountain Bike Trail and other attractions, the West Side will become more of a lifestyle area for younger families. It's quite derelict at the moment. High rise living in a town centre is very popular, if we create it here then it will keep it within a town centre and keep the suburbs as they are. It makes sense to develop a centre hub.