Hornsby Mall Consultation
Your Mall Your Call - have your say on the future of Hornsby Mall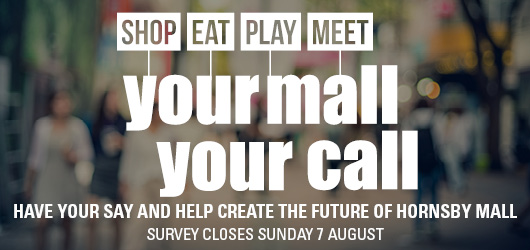 About Hornsby Mall
Hornsby Mall is the dynamic hub of Hornsby, the focal point of Hornsby Shire's commercial, retail and residential districts with over 15,000 visitors daily.
Twenty five years on from its creation, the Hornsby Mall of today is still largely based on its 1991 design. Much has changed since 1991 – growth in housing density and population, ever increasing cultural diversity, and a rise in Sydney's café and dining culture, to name a few. This has informed the Hornsby Mall of today – a major pedestrian thoroughfare and key civic space facilitating events, outdoor dining, markets, performances, and recreation and social interaction.
Following upgrades to Hunter Street North and South between 2011 and 2013, and with the arrival of the new Hornsby Footbridge in 2016, the time is right to revitalise Hornsby Mall to meet the needs of the current and future community of Hornsby. Hornsby Council has selected consultants Andersen Hunter Horne to realise, develop and deliver a new and exceptional design vision for the Hornsby Mall, through a Hornsby Mall Masterplan.
More information
For more information contact Michael Brown, Place Management Officer, Hornsby Shire Council on brownm@hornsby.nsw.gov.au or 9847 6779.
Document Library