Hornsby Junction Remodelling
Upgrading Hornsby Junction will provide long-term benefit to the community by delivering faster turnaround times for trains and increase the capacity and reliability of the T1 North Shore Line.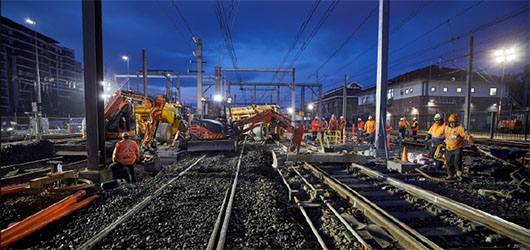 The Hornsby Junction is the network of interconnected tracks located between the Pacific Highway and Bridge Road, Hornsby. The Junction is heavily used by both passenger and freight rail services and is the location where the T1 Northern Line and T1 North Shore Line meet.
Major Trackwork and construction Friday 29 December 2017 to Monday 15 January 2018
During this time, major trackwork will affect train services on the T1 North Shore Line, T1 Northern Line and the Central Coast & Newcastle Line – with buses replacing most train services.
Trains will run for New Year's Eve celebrations. Please plan ahead. For alternative transport information visit transportnsw.info or call 131500.
The Hornsby Junction Remodelling Project will take advantage of the trackwork period by undertaking major construction works safely while a reduced number of trains use the network.
For detailed information on construction activities during this time please see the December/January monthly update or visit transport.nsw.gov.au/projects/hornsby-junction.