Hornsby Footbridge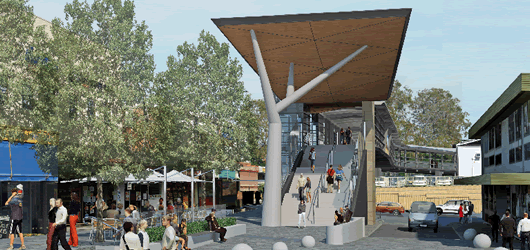 June 23, 2017
The new Hornsby Station footbridge is now in its final stages of completion. The large awning has been erected and the paving on the southern side of the bridge is almost finished. The lifts are currently being installed and they are expected to be operational within the next few weeks. Once they are working the temporary ramp will be removed and pedestrians will be able to use the stairs.
For the first few weeks foot traffic will be limited to one side of the stairway, as the side that is currently blocked by the ramp is completed, and then the bridge will be officially finished. After that there will only be some tidying up to do in the mall, such as finishing the last of the paving.
October 17, 2016
Hornsby's new footbridge is opening today, giving the 15,000 daily pedestrians access to a much wider thoroughfare.
Construction of the new bridge has not been completed yet, but it is being opened so the old bridge can be demolished. Pedestrians will need to use a ramp attached to the new bridge while the stairs and elevators are built.
The site will be very noisy over the next few weeks while the demolition of the old bridge takes place and construction is finished. Florence Street will remain closed during this time.
While everybody is excited about the new footbridge, spare a thought for the local businesses who are currently stuck in a construction zone and have to operate despite the temporary closure of Florence Street. They are carrying the brunt of a project that will benefit the entire community, so please pay them back by supporting their businesses.
October 4, 2016
The construction of the new footbridge is continuing apace, with Florence Street temporarily closed to expedite the completion of construction. Florence Street is expected to remain closed over the next few months. Towards the end of October, pedestrians will begin to use the new footbridge with access via a temporary ramp at which point the demolition of the old bridge will begin.
Replacing the Hornsby Footbridge
The outdated footbridge over George Street will soon be replaced, with work currently underway.
The new bridge will be 4.5 metres wide – more than double the current bridge – and its traffic clearance will be increased to 5.5 metres.
Two new elevators will also be included.
The current bridge will remain in use throughout the construction, much of which is happening off-site.
The works also include an extension of Hornsby Mall to George Street. This work will set the tone for the upgrade of Hornsby Mall in coming years.
The project will cost $7 million and is being jointly funded by Hornsby Shire Council and the NSW Government.
The bridge is used by 15,000 people every day.