Beecroft Station Gardens
PROJECT UPDATE - MARCH 2018
Beecroft Community Centre
Works have commenced on the upgrade of the Beecroft Station Gardens alongside the railway station and construction of a new carpark at the Beecroft Community Centre within Beecroft Village Green to the south.
A carpark will provide access for authorised users of the facility, including 4 parking bays (2 accessible) and an unloading area for deliveries to facilities and for events.
Addressing the street, new footpaths will provide an entry to the Hall, which facilitates wheelchair access at suitable grades between the Community Centre and carpark and beyond to the adjoining Station Gardens and playground, Railway Station and Beecroft Village town centre to the north.
Nine new trees, gardens and lawns will be restored to the setting, with works around the Community Centre expected to be completed in September 2018.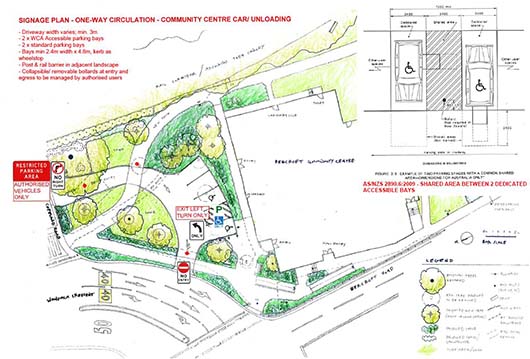 Signage Plan - Beecroft Community Centre car park (click to enlarge)
Beecroft Station Gardens
A main feature of the park re-design is the removal of stairs within the park, so that wheelchair access is provided between the playground to the north and the War Memorial to the south within the Station Gardens.
Currently, the removal of old pavements, sleeper edging, furniture, and damaged trees is taking place. Stone, brick pavers and some furniture is being salvaged where possible for re-use throughout the job. Most existing trees within the Station Gardens are being retained, including all of the grand pines, most Jacarandas and other specimens. The number of removals of trees (3) and large shrubs (3) is outnumbered by new tree plantings (25). Beecroft Station Gardens will be refreshed with new trees and decorative understorey, plus new furniture and seating and open lawns being established.
It is currently anticipated that works will be completed in September 2018.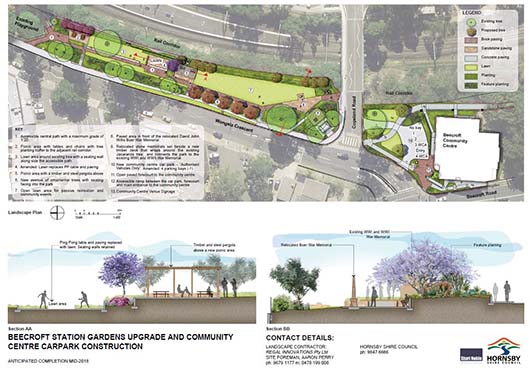 Works Notification - Beecroft Station Gardens & Community Centre (click to enlarge)
Find Out More