Water programs
Hornsby Shire Council can help teach your students the importance of water quality and conservation.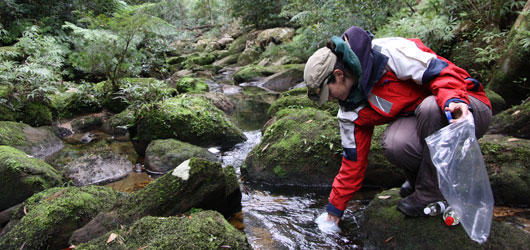 For further information about these programs contact Council's Natural Resources team on (02) 9847 6998 or email hsc@hornsby.nsw.gov.au.
Primary School Workshops by EnviroMentors
Primary schools within Hornsby Shire are annually invited to host and participate in EnviroMentors school incursions designed to engage students on catchment awareness, water cycle and stormwater pollution issues.
See the EnviroMentors page for more information
Local Catchment Tour
Students learn about the local catchments, water quality and how stormwater pollution is managed. Take home information and resources included.
Teachers must attend, school to provide transport. Minimum student numbers apply.
Suitable for primary and secondary schools.
Catchment Story and Stormwater Education
This presentation and activity introduces students through an entertaining and participatory story to the stormwater pollution issues facing local catchments.
Teachers must attend. Better suited to a single class or smaller group.
Suitable for primary schools.

Last updated: 19 Jun 2015