Mount Colah Community Centre
In a quiet cul-de-sac opposite the train station, this centre features both a main hall and a meeting room that can be booked.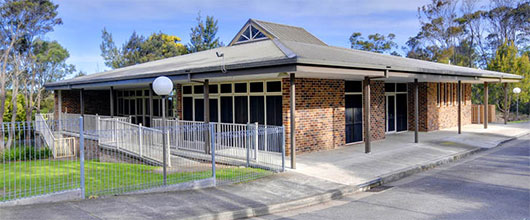 "Our family has had a number of functions at the centre that have gone very well. It's always our first choice."
- Rachel Williams.
Address:
Pierre Close, Mount Colah
Capacity:
175 people
Features: main hall, meeting room for 30 people, foyer entrance, large balcony, enclosed grounds, tables, chairs, heating, ceiling fans, no piano, no PA system, no air conditioning
Kitchen facilities: hot water, refrigerator, oven, microwave, no crockery or cutlery
General amenities: off-street parking, disability access, accessible amenities, enclosed grounds, no playground
Floor: wooden
Phone:
(02) 9847 6050 / 9am - 5pm
Email:
communitycentres@hornsby.nsw.gov.au
Book online / check availability - entire centre
Book online / check availability - Hall
Regular activities
Helen O'Grady Drama Academy - Hornsby & Districts
Children's speech and drama lessons. Speech, mime, movement, characterisation, playbuildings.
Contact: Louise Gardiner 02 9875 3139 / 0410 700 272
Website: www.helenogrady.com.au
When: Thursdays (During School Terms): Kinder to Year 3, 4.00pm - 5.00pm; Year 4 - Year 6, 5.00pm - 6.00pm
Hornsby Heights Camera Club
Photography talks, learning, workshops with like minded photography enthusiasts.
Contact: Sean Collins 0410 331 013
Website: www.hornsbyheightscameraclub.com
When: 2nd & 5th Tuesday each Month 7.45pm
Harmony
Early education and music classes for children 2-8 years old. Lessons are conducted in Russian.
Contact: Nataliya Zorina 0424 092 716
When: Thursday 4.00pm - 6.00pm
North Shore Martial Arts
Classes teaching self defence, fitness and a variety of Martial Arts systems including weapons.
Contact: Genady Rudenko 0412 701 576
Website: www.jeetkunedo.com.au
When: Monday 7.00pm
Willow Dance Base
Ballet (Cecchetti) Contemporary, Jazz and Hip Hop dance lessons
Contact: Lisa Linton-Ffrost 9988 4876
Website: www.willowdance.com.au
When: Wednesday 3.45pm-7.45pm
Mount Colah Bush Babies Playgroup
Playgroup NSW is about parents, grandparents and carers coming together to provide play experiences for their children, it also allows families to have fun, make friends and learn through play.
Contact: Playgroup NSW 1800 171 882 admin@playgroupnsw.com.au
Website: playgroupnsw.com.au
When: Tuesday 9.30am to 11.30am. Wednesday and Friday 10am to 12pm.

Hornsby and Districts Amateur Radio Club
Radio, communications and electronics hobbyist group.
Contact: Bob Mutton 9980 6751 hadarc@hadarc.org.au
Website: hadarc.org.au
When: Second and fourth Tuesdays 8pm February to November