Seniors Week Expo 2017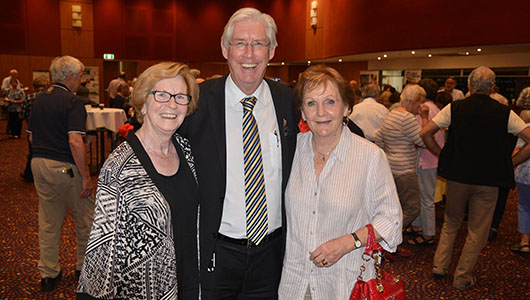 On Friday the 3 March 2017 Hornsby Shire Council hosted a very informative Seniors Expo.
Speaker's Notes
The speakers have kindly provided their presentation and notes to be shared with the public.
Frequently Asked Questions
Below are some of the most frequently asked questions to service providers that attended the expo.
University of the Third Age (U3A)
Q. What is the cost of joining U3A?
A. $10 Registration and thence $60 per year. You can go to two meetings free of charge before committing.
Q. What are the courses?
A. You can find all courses on offer at U3A at http://sydneyu3a.org/
Hornsby Ku ring gai Community transport
Q.What is the cost of using the service?
A. HKCT charge a client contribution of $10 return within the Hornsby/Ku-ring-gai LGA's and $15 return outside the Hornsby/Ku-ring-gai LGA's for social outings, shopping and in area medical transport. We have a taxi budget for out of area medical appointments.
Q. When should I contact Community Transport?
A. Community Transport is available to clients of all levels of need. Our social outings and shopping are ideal for independent/low level care clients. Accessing our services early can actually keep them connected to their community and extend the time before they need to use other services as the social outings and interactions with fellow clients keep them well. Visit https://communitytransport.org.au/ for more information.
Before using Community Transport you need to register with My Aged Care 1800 200 422 for an assessment.
My Age Care
Q. How do I obtain services and get an assessment done on my needs?
A. The Commonwealth Home Support Programme (CHSP) is designed to provide entry-level support services to frail, older people to assist them to live independently at home and in the community. Call 1800 200 422 for an assessment. Visit http://www.myagedcare.gov.au/ for more information
Hornsby Shire Council - Road Safety Officer, Traffic & Road Safety
Q. When do I have to retest for my driver's licence?
A. When you reach 75 years of age you are required to have a medical assessment every year to keep your licence. Two months before you turn 75, Roads and Maritime will send you a form to take to your doctor. When the medical assessment is completed, you return the form to the registry office before your birthday. Before you reach 85 years of age you are required to pass an on-road driving assessment. From this age you will need to have a medical yearly and pass the on-road driving test every two years. Visit http://www.rms.nsw.gov.au/roads/licence/older-drivers/ for more information.
Q. Can I park in front of my own driveway, on the side of the road?"
A. No you are not legally allowed to obstruct access to any driveway, regardless of it being your property. Parking offence: Stop on/across driveway/other access to/from land. Penalty: $108. When committed within a school zone the penalty is $180 + 2 demerit points.
Hornsby Library
Q. How do I find information about legal issues for seniors?
A. Go to the website www.legalanswers.sl.nsw.gov.au, Find free current information about the law, use your local public library to use the Find Legal Answers Toolkit.
Q. What's new at the library?
A.Free access to e books, music and magazines, learn a language from home. Go to http://www.hornsby.nsw.gov.au/library/catalogue-and-elibrary/elibrary
Q. What if I can't get to the library?
A. The Home Library Service is free, phone Mary at the library on 9847 6806, for more information, or visit http://www.hornsby.nsw.gov.au/library/branches-and-membership/home-library-service
Volunteering
Q. What volunteering opportunities can you refer me to in the Hornsby area?
A. Below are examples of how you can volunteer.
Driving elderly people to appointments or shopping
Social visits to elderly people in their home or in residential care
Delivering meals to elderly people
Helping to maintain gardens of elderly people
Helping with bus outings or shopping bus trips for elderly or people in wheelchairs
Join us at the
Hornsby and Ku-ring-gai Volunteer Expo
on Tuesday 30 May in Hornsby Mall to meet with local organisations that need volunteers to help do their important work assisting others in the community.
Visit http://www.kmc.nsw.gov.au/Things_to_do/Events_activities/Volunteer/Ku-ring-gai_Hornsby_Volunteer_Service for more information.
Mt Wilga Private Hospital Driver assessment and Training
Q. Do I need a referral for Driver assessment and training?
A. No. Referrals can be made by anyone including the client, family and carers, insurers, medical and health professionals. Supporting medical information about your presenting condition is helpful as part of the your reason for referral may include physical limitations, changes to vision, co-ordination and cognitive function including awareness, insight, reasoning and thinking as a result of disability, illness or injury.
Q. How is it funded?
A. The driving assessment is an outpatient service that is not covered by Medicare. There are a range of funding options available, which may partially or wholly fund the program. You may receive assistance through the National Disability Insurance Scheme (NDIS), your privatehealth insurance fund or third party insurers. Visit http://www.mtwilgaprivate.com.au/ for more information.
Last updated: 16 Mar 2017