Parking
Council is responsible for managing parking throughout Hornsby Shire. If you have any questions about parking, phone 9847 6616.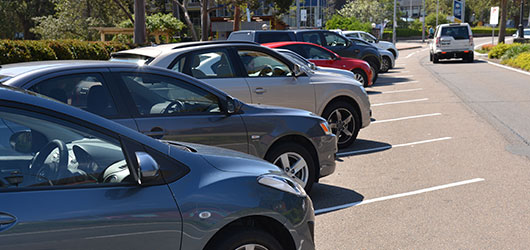 Who can I speak to about an infringement notice I received?
All infringement notices issues by Council are processed by the State Debt Recovery Office. Any initial representation must be sent in writing to:
State Debt Recovery Office
PO Box 786
Strawberry Hills NSW 2012
More information can be found on the State Debt Recovery Office website.
Why are there parking restrictions?
Parking restrictions increase road safety while allowing all road users to share parking spots. They stop people parking in your driveway and give you the best chance of finding a parking spot when you go shopping.
What do the different parking signs mean?
Traffic and parking signs have the same meaning throughout New South Wales.
Who decides the parking restrictions for a road?
All parking restriction proposals on Council-controlled roads are carefully evaluated by the Local Traffic Committee, which includes representatives from Council, RMS, police and the State Local Member.
The RMS is solely responsible for parking restrictions on State roads such as Pennant Hills Road, the Pacific Highway, Beecroft Road, Boundary Road, Carlingford Road, Galston Road, Old Northern Road, Castle Hill Road and most of New Line Road.
Can I drop off a passenger in a 'No Stopping' zone?
No, this is dangerous and illegal. No stopping means you cannot stop for any reason. Please help improve road safety by following this rule.

Where can I drop off a passenger?
There are a number of locations at railway stations within Hornsby Shire where the set down and pick up of passengers is permitted.
Does Council raise revenue through parking fines?
Hornsby Shire Council receives relatively little revenue from parking fines once the enforcement costs are deducted. Our aim is to improve road safety through both education and enforcement while ensuring parking spots can be shared by all road users.
How can motorists be fined at locations where there are no signs, such as near intersections or adjacent to barrier lines?
The NSW Road Rules apply whether a sign is in place or not. It is simply not feasible to signpost all intersections and areas where vehicles might park illegally. If you park in a manner that obstructs access or visibility, even for pedestrians, or forces other motorists to break the law to avoid your vehicle, then you may have parked illegally. For more details on traffic regulations, visit the RMS website.
Who sets the amount of parking fines?
The penalty specified for parking fines and demerit points is set by the State Government and cannot be varied by Council.
Why can't I appeal to Council when I get a fine?
Council's traffic rangers enforce the parking restrictions in accordance with NSW Road Rules. To ensure impartiality, transparency and consistency with issuing penalties and reviewing requests, Councils across NSW use the State Debt Recovery Office (SDRO) to review penalties.
If a driver disputes a parking fine, the SDRO will ask Council to check its records to determine whether it was correctly issued. If the infringement was issued correctly, the SDRO may give the matter further consideration. The SDRO website contains information on how to arrange for the review of an infringement and gives details of what factors will be considered in its review.
If a motorist is not satisfied with the results of this review, they may choose to have the matter heard before a magistrate in a local court.
Why don't traffic rangers issue more cautions or wave people on?
This is a matter for the individual ranger to decide, based on the situation and the severity of the offence. Traffic rangers regularly issue cautions and details are kept to ensure repeat offenders are identified. Rangers also direct motorists to move on. However, if a person argues or refuses a penalty may be issued.
If parking is such a problem, why doesn't Council create more parking spaces instead of penalising motorists?
The provision of commuter parking at railway stations or regional bus stops is the responsibility of the State Government. Council has lobbied the Government for many years to provide additional commuter parking across the Shire, with some success. If you have concerns about commuter parking in your area, please contact your State Local Member.
Why do traffic rangers take photos? Isn't it an invasion of privacy, especially around schools?
The taking of photos in public areas by enforcement agencies is universal practice across all jurisdictions. Traffic rangers take photos to prove an infringement was correctly issued. Since the practice was adopted the number of disputed penalty notices has been greatly reduced. Rangers are only interested in taking a photo of the vehicle and the relevant sign or road marking. They avoid including people where possible.
Photographs taken by Council's Traffic Rangers are stored in a secure manner. Each photo has an identification code and access to the photos is strictly limited to authorised Council staff. The registered owner of the vehicle or the nominated driver may obtain a copy of a photo for a small fee ($15.00 at July 2017) using the following form: Council parking infringement photo request form.
What can I do if I believe that parking restrictions should be changed or a sign is obstructed or missing?
To report obscured or missing signs or to request changes to parking management, please submit a service request or call 9847 6666 during business hours.
Useful links
Last updated: 05 Jul 2017