Council Meetings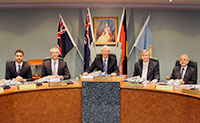 All meetings of Council are open to the public except when dealing with specified confidential matters.
>> Go to Council meeting agendas and minutes
For agendas and minutes dating before October 2008, see the Business Papers page.
When and where are meetings held?
At the Ordinary Meeting of 21 March 2012, following consideration of Report No. CC9/12, Council resolved to amend its schedule of meetings such that items previously considered at Planning and Ordinary Meetings be included in one monthly meeting, referred to as a General Meeting.
Council now holds two types of meetings:
1. General meetings - General meetings consider all relevant matters, including planning and development matters, and are held on the third Wednesday of the month (excluding January).
2. Workshop meetings - Workshop meetings are only held when required to consider specific matters, especially those where a presentation by Council Staff or external organisation is called for. When required, these meetings are held on the first, second, fourth or fifth Wednesday of the month (excluding January).
For a list of meeting dates, please see below.
All meetings are held in the Council Chambers, 296 Pacific Highway, Hornsby.
See also:
Schedule of meetings for 2012-13
General Meetings
19 June 2013 - 6.30pm start
17 July 2013 - 6.30pm start
21 August 2013 - 6.30pm start
18 September 2013 - 6.30pm start
*The scheduling of these meetings is dependent on the Declaration of the Poll in respect of the 8 September 2012 Local Government Elections.