Compare and save with 'My Energy Offers'
Monday 18 June, 2012
Did you know…?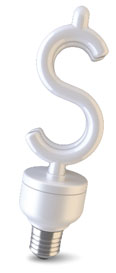 In March 2011 the NSW Government privatised its electricity retailers, effectively deregulating the electricity industry and creating competition between retailers.
In 2011 regulated average residential electricity prices increased up to 17.9% for those customers using Energy Australia. In June 2012, the Independent Pricing and Regulatory Tribunal (IPART) issued a decision for regulated average retail electricity prices, with an increase of 20.6% for Energy Australia customers to come into effect from 1 July 2012.
These increases are based on the introduction of the Federal Government's carbon pricing mechanism, the ongoing rise of network costs, and slight increases to retail costs associated with energy retailers.
Similarly, in June 2012 IPART issued a decision for regulated gas prices, with an increase of 14.8% for AGL customers to come into effect from 1 July 2012. IPART have advised this increase is due to the introduction of the carbon pricing mechanism and increases in gas distribution network prices.
Compare and save with 'My Energy Offers'
IPART operates a free energy on-line price comparison website for NSW residents and small businesses called 'My Energy Offers'. Using only your postcode and recent electricity and gas bills, Hornsby Shire residents can choose an energy deal that is best for them.
The 'Energy Comparison Calculator' shows that a typical Hornsby Shire resident could achieve a discount of up to 22% off their annual electricity bill by moving from a regulated contract to a market based contract*
Please visit myenergyoffers.nsw.gov.au or call 1300 136 888 during business hours to find out what market contracts are available.
*Actual discounts may vary.
< Back
< Back