Forms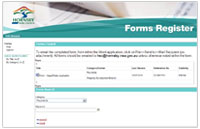 Looking for a form?
All Council forms are now in a central area where you can search by category or keyword. Most of these forms can now be completed online and emailed as an attachment to Council if they do not require a signature.
If a form requires a signature, you can still complete it using Word and then print it out and sign it before sending it to Council.
All forms should be emailed to hsc@hornsby.nsw.gov.au unless otherwise noted within the form. For forms which require a signature, postage and fax details will be provided on the form.
If you need further information, refer to the forms register help section.