Current improvement works
Survey
Had a footpath or road constructed near your property lately?
If so, we would like to hear from you! Please take a few minutes to fill in this survey.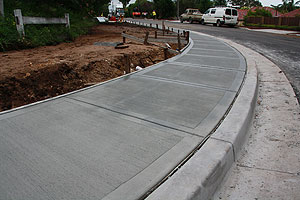 Current Council works taking place in Hornsby Shire area is set out below and can also be found in the Council's Delivery Program.
If you would like to enquire about any work taking place which is not listed, please phone 9847 6666 or email hsc@hornsby.nsw.gov.au.
Stay up to date with the latest roadworks by following us on Twitter at www.twitter.com/hornsbycouncil.
Current works
The attached design plan shows proposed works in Hannah Street, Beecroft.

End date: 30/06/2013

Council is undertaking construction of major drainage upgrade works in Hunter Lane, Linda Street and Hunter Street, Hornsby

End date: 30/11/2013

Work on the upgrade of James Park is about to commence with most works completed by April 2013. The design proposals were favourably received by local residents, scouts, sports clubs and the Hornsby Hospital.

End date: 30/04/2013
Projects completed and scheduled to complete construction February 2013
Fuller Avenue, Hornsby: Local Road Improvement Project; Construction of kerb and gutter, drainage and road works between Hall Rd. and Pretoria Pde
Singleton Road, Wisemans Ferry: Upgrading of 1.2Km of unsealed road: Placing road base and two coats flush seal
Royston Parade, Asquith: Local Road Improvement Project; Construction of kerb and gutter, drainage and road works between Hazel Mead Rd. and Dudley St
Winston Street, Asquith: Local Road Improvement Project; Construction of kerb and gutter, drainage and road works between Olive St. and Sherbrook Rd
Bellamy Street, Pennant Hills: Construction of bioretention basin adjacent to fire trail, Bellamy Street
Projects starting construction February 2013
Plympton Road, Carlingford: Local Road Improvements Project; Construction of kerb and gutter, drainage and road works between Magnolia Avenue and Avonlea Road
Berowra Waters Road, Berowra: Embankment stabilisation works at various locations between Currawong Road and Ferry
Proposed Capital Works 2012/13
Local footpath improvements
Galston Road, Hornsby Heights - east side – No. 226 to No. 252
Yallambee Road, Berowra - north side – Mountain View Road cnr to Yallambee Road
Koorong Street, Berowra - south side - Bilston Road to Hillcrest Road
King Street, Mt Kuring-gai - north side - Brisbane Avenue to Low Street
Oleander Road, Wahroonga - south side – Myra Street to Highlands Avenue
Duneba Drive, Westleigh Stg 2 - north side – No. 32 to Elouera Road - Jan 2013
Lymoore Avenue, Thornleigh - west side – Sefton Road to end - Jan 2013
Cedarwood Drive, Cherrybrook - north side – Casuarina Drive to New Line Road
Paling Street, Thornleigh - north side – Cavendish Street to Thornleigh Street
Hull Road, Beecroft Stg 1 & 2 – eastside – Chapman Avenue to Albert Road
Ray Road, Epping – north side – Ridge Street to Magnolia Avenue - Jan 2013
Old Northern Road, Dural - east side – 903 Old Northern Road to Dural Primary School
Old Northern Road, Dural - east side – Redfield College to Vineys Road
Local road improvements
Berowra Waters Road, Berowra Heights – embankment stabilisation (REPAIR Program – 50% funded by RMS)
Pacific Highway, Hornsby Stg 3 (REPAIR Program – 50% funded by RMS)
Willarong Road, Mt Colah Stg 1 – western end to Pacific Highway – both sides
Waratah Road, Berowra Stg 2 – Rickard Road to Crowley Road – both sides
Winston Street, Asquith– Sherbrook Road to Olive Street – both sides
Royston Parade, Asquith Stg 1 – Hazelmead Road to Dudley Street – both sides
Edgecombe Avenue , Wahroonga – Hinemoa Avenue to No. 8 – both sides
Fuller Avenue, Hornsby – Hall Road to Pretoria Parade – east side
Brooklyn Road, Brooklyn Stg 2 - Melrose Street to No. 83
Plympton Road, Epping/Carlingford Stg 1 – Avonlea Drive to Magnolia Avenue – both sides
Singleton Road (west), Wisemans Ferry Stage 3 - Upgrading of 1.0km of unsealed road from end of sealed section($300,000 from Unsealed Road Mtce)
Major and minor drainage improvements - Stormwater Drainage*
*The actual timing of the projects in this program is subject to the outcome of technical investigations and detailed designs
Hornsby CBD Stg 2 - Hunter St to Water St
Quarter Sessions Road, Westleigh
Royston Parade, Asquith
Tomah Place, Westleigh
Berowra Road, Mt Colah
Bishop Avenue, West Pennant Hills
Burns Road North, Beecroft
Cowan Road, Mt Colah
Edgeworth David Avenue, Waitara
Glenview Road, Mt Colah
Lady Street, Asquith
Maybush Place & Woodcrest Place, Cherrybrook
Red Cedar Place, Mount Colah
Unwin Road & Karinya Place, Wahroonga
Open space assets
Pennant Hills Park - Netball court lighting
Kangaroo Point Brooklyn - New park design and construction
Dural Park - Improve floodlights
Leonora Close playground, Hornsby Heights - Playground upgrade
Pennant Hills No. 1 - Improve floodlights
Lower McKell Park, Brooklyn - Playground, park furniture, path improvements
James Park, Hornsby - New amenities, changerooms, toilets, canteen
James Park, Hornsby - Circuit path, BBQs, shelters, play and fitness equipment
Oakleigh Oval - Upgrade floodlights
Oakleigh Oval - Baseball back nets and oval fencing
Greenway Park, Cherrybrook - Skate park expansion
Greenway Park, Cherrybrook - Baseball back nets and oval fencing
Thomas Thompson Park - Carpark light pole replacement
Old Mans Valley
Mark Taylor Oval cricket nets upgrade
Repair faulty softfall at Brickpit Park playground
Aquatic and recreational centres
Redevelopment of the Hornsby Aquatic Centre
Capital Projects - Epping Aquatic Centre
Refurbish reverse osmosis unit
Replacement of heating pump
Capital Projects - Galston Aquatic Centre
Replacement of sand filter system
Replacement of heating pump
Replace plant room stairs
Building improvements
Bus shelter construction
Capital Projects - Public Buildings
Administration Centre - renewal and upgrade works, including roofing, courtyard, lift upgrade, accessible toilet and fire safety
Provision of safe roof access various buildings
Refurbishment of amenities buildings
Refurbishment of libraries
Refurbishment of leisure and learning centres
Refurbishment of child care centres
Hornsby Library - replace staff kitchenette and staffroom floor coverings
Capital Projects - Air conditioning
Air conditioning - various, including annual duct cleaning
Foreshore facilities
McKell Park Tidal Pool Rehabilitation (Stage 2)
Brooklyn Wharf - access road resheeting
Dangar Island Pontoon (new)
Kangaroo Point Seawall Area 1 (Stage 2)
Others
Pedestrian Bridge, George Street, Hornsby (Design and Construction)
Council share $40,000
Minor traffic facilities, including cycleways (subject to State and Federal funding) (Traffic and Road Safety)
Storey Park Community Centre (Community Services)
Renovation/extension of Wallarobba Arts and Cultural Centre (Stage 2) (Community Services)
Hornsby Mall Improvements (funded from Restricted Asset) (Design & Construction)
Hornsby Quarry - Water pumping and monitoring (part funded from Restricted Asset(Design and Construction)
Hornsby Quarry landfill program (funded from Restricted Asset) (Design and Construction)
Hornsby Town Centre Preconstruction (S94) (Design and Construction)
Design and technical survey equipment (Design and Construction)
Unsealed road maintenance (Assets)
Local Road Preconstruction (Assets)
Kerb and guttter at various sites (Assets)
Footpath Upgrade Program (Assets)
Footpath Access Ramp Upgrade/Construction Program (Assets)
Drainage Upgrade Program (Assets)
Road Shoulder Upgrade Program (Assets)
Floodplain Risk Management (Assets)
Fleet - heavy and light, and plant replacement (Engineering Services), (Governance and Customer Service)
Bushfire interface mitigation works (Bushland and Biodiversity)
Bushland improvements (Bushland and Biodiversity)
Dangar Island Fire Station (new station) (to be reimbursed by NSW RFS)
Fleet Upgrades (replacement of appliances) (to be reimbursed by NSW RFS)
Station Roof Lifting (to allow locating new appliances in stations) (to be reimbursed by NSW RFS)
Mount Kuring-gai Station Upgrade (addition of meeting and training room and kitchen) (to be reimbursed by NSW RFS)
Catchments Remediation Rate capital works projects (Water Catchments)
Stormwater reuse projects (Water Catchments)
Library Resource Vote (Library and Information Services)
Radio Frequency Identification technologies (Library and Information Services)